When you need to use Remote Access, there are just a few preparations that must be in place before you begin.
The Internet-ready Windows computer you are using to connect to the DCRI network must be operating with Windows 7, 8, 8.1, or 10.
Processor speed, memory size, and hard drive space are not major concerns on a typical computer manufactured in the last few years. For example, although each access method requires you to download software on first access, the hard drive requirement is less than 50 Megabytes each.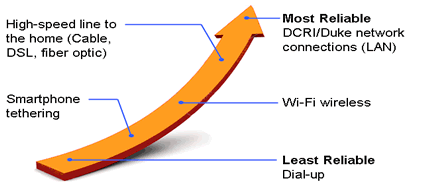 Connecting to the DCRI network from a remote location requires a high-speed Internet connection. The reliability of a connection varies, depending on a number of factors—including the technology used to connect to your Internet Service Provider (ISP), depicted at right.
The DCRI Service Desk is authorized to provide technical support for questions related to DCRI-issued equipment. All other questions related to connectivity, such as routers, should be directed to your ISP.
| | |
| --- | --- |
| | TO CONNECT TO YOUR DCRI-ISSUED COMPUTER |
This feature of Cisco AnyConnect and iDCRI/Citrix is available only to DCRI employees/contractors that use a DCRI-issued Windows computer at their desk in a DCRI facility. (To use with iDCRI/Citrix, your list of applications must include Remote Desktop Connection.)
Before you leave the office, complete the following at your DCRI desktop computer:
Log yourself off.
Leave the computer powered on and connected to the wired DCRI network.
Power off external monitors.
| | |
| --- | --- |
| | MULTI-FACTOR AUTHENTICATION |
Before you start, you must have enrolled in Duke's Multi-Factor Authentication (MFA) security feature. For details, download the Multi-Factor Authentication: Enrolling and Using MFA quick reference card. To enroll, begin at the Duke Office of Information Technology (OIT) website, read more about the feature, and then click Register in the callout box at the upper right area of that page.
| | | |
| --- | --- | --- |
| | Cisco AnyConnect | iDCRI (Citrix) |
| Windows Internet Explorer (9+) | Yes | Yes |
| Mozilla Firefox (43+) | Yes | Yes |
| Google Chrome (any) | Yes | No |